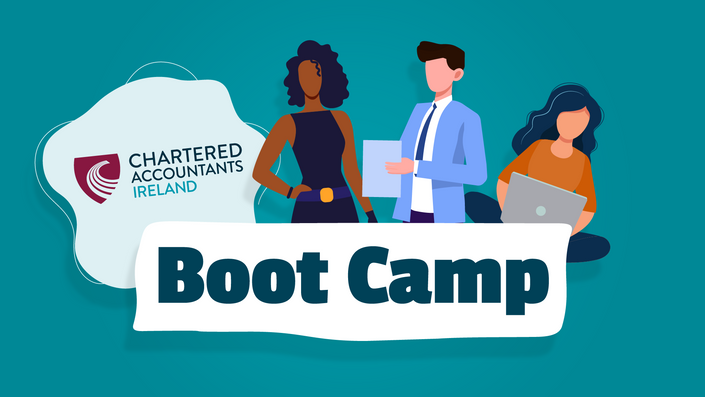 Chartered Accountants Ireland Boot Camp
The essential online foundation course for Senior Cycle Accounting
Watch Promo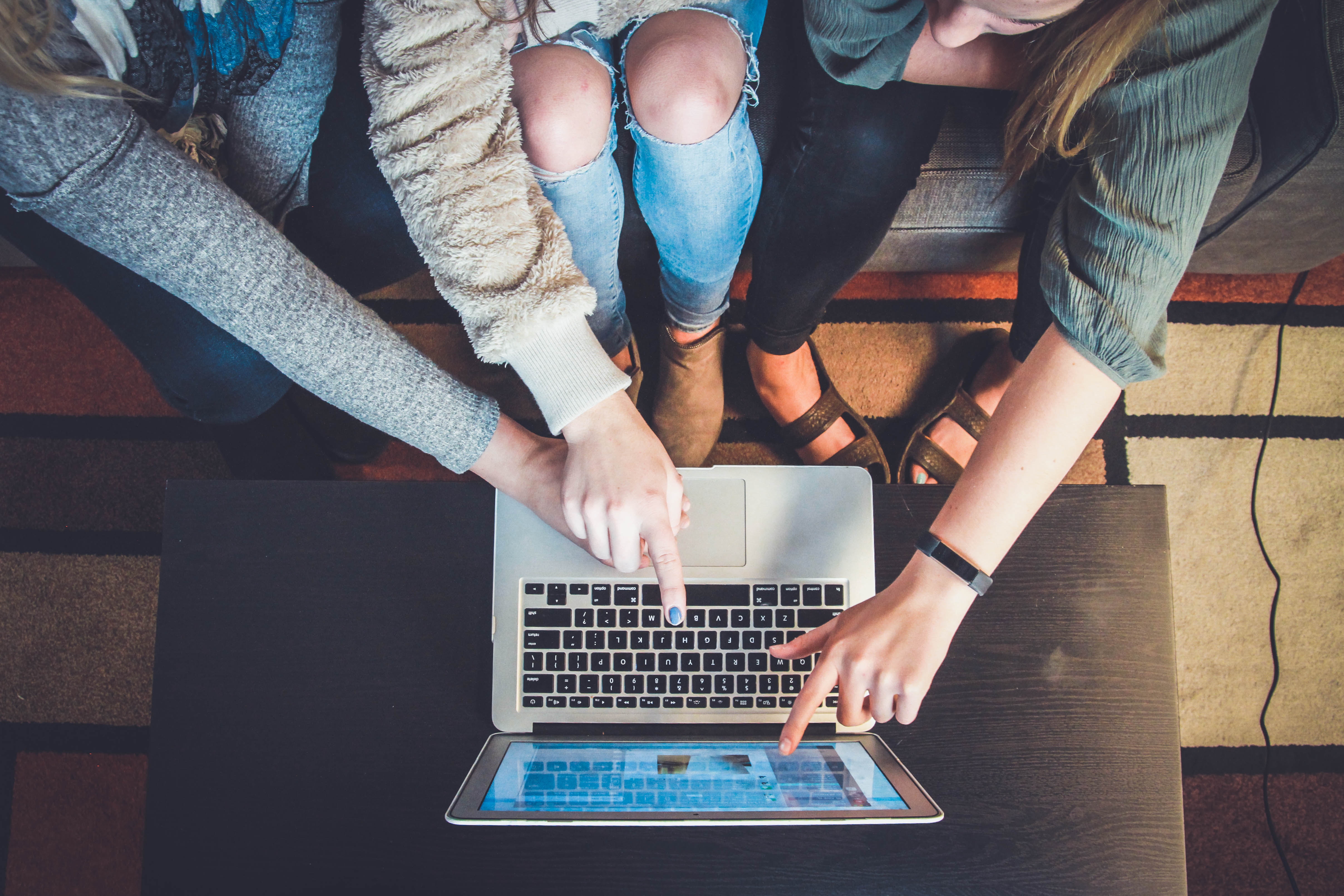 "A fantastic programme! The variety of teaching resources keeps students engaged, and the content provides them with a solid understanding of the double-entry concept. A prerequisite for all my accounting students going forward!."
Ms L Keane, Villiers School, Limerick
Important Note For Teachers

This is the "Student Version" of Boot Camp. There is a separate "Teacher Version" which is for teachers only. If you are a Teacher, TY Coordinator or Guidance Counsellor and would like to run Boot Camp in your school, please contact Veronica Byrne, our Schools Programme Coordinator, at the email address below.
What is Boot Camp?
Boot Camp is an online programme of learning for students looking to develop their financial skills. The programme helps students build a strong foundation in the fundamentals of accounting and finance, while also developing their understanding of how to use financial information to make better business decisions. Students who participate in the programme will develop important, transferable financial and business leadership skills.
For Transition Year students, it is an ideal introduction, not just to accounting, but to the business and financial decision-making process. Favouring a strong practical focus, students are exposed through "real life" business simulations, to concepts like strategy, risk, sensitivity analysis and the importance of critical thinking to good decision-making. Students will also gain real life insights from senior business leaders, accountants and finance professionals.
The programme is also highly effective online revision tool for 5th and 6th year Accounting students as it provides an excellent foundation in the basics of double entry and accounts preparation.
Is Boot Camp for you?
You should do Boot Camp if one or more of the following apply to you:
You are interested in business and finance and, in particular, how important business decisions are made.

You aspire one day to be a business leader, senior manager, accountant or entrepreneur.

You want to learn valuable transferable business skills like critical thinking, financial analysis and strategy.

You enjoy working in teams, getting to grips with problems and solving them.

You intend taking Accounting or Business as a subject for Leaving Certificate.
What will I learn in Boot Camp?
Boot Camp comprises a core Foundation Course in Accounting followed by a Business Leadership Simulation called "The Boot Camp Challenge". These are described further below. In addition to these resources, Boot Camp also includes careers guidance on the pathways to, and opportunities for, students considering a career in accounting and finance.
The Foundation Course

In the Foundation Course, you will learn the basic building blocks of accounting and how to use them to record financial transactions. You will develop your book-keeping skills and practice how to apply them through a series case-study style questions. You also will learn how to extract a Trial Balance and how to prepare a Trading, Profit and Loss Account and a Balance Sheet. By the end of Boot Camp, you should be able to prepare a set of final accounts for a business, from basic records, and be able to make the necessary adjustments to accurately reflect both the financial performance and the financial position of the business.
The Boot Camp Challenge?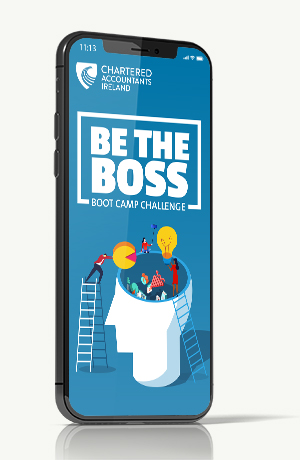 The Boot Camp Challenge is a fully "gamified" online business simulation in which students take on the role of Chief Executive Officer (CEO) of their own business. Students who complete the Challenge will acquire essential decision-making and critical thinking skills and gain valuable experience about real-life business leadership. The Challenge is not just for students who are interested in business subjects. It is suitable for any student who has an interest in problem solving, creative thinking and analysis.
In the Challenge, students are faced with having to make a major decision which will have far reaching consequences for their business. To add a competitive edge to the Challenge, we are also running a National Competition. Prizes will be awarded for:
Best school entry (i.e. a submission from an entire class)

Best team entry (up to 5 students per team)

Best individual entry.
We invite all enrolled students to take part in the Boot Camp Challenge and pit their business smarts against students from all over the country. The winners will be announced in May 2021.
How long does Boot Camp take?
The Boot Camp Foundation Course is a completely self-paced online course. If your teacher is running Boot Camp in class, she/he will set a timeline for you and will provide further guidance on how to complete Boot Camp. For TY students, teachers may opt to run the programme over a period of 8 to 10 weeks (e.g. one class per week). It is just as feasible, however, to run the programme in a more condensed timeline, for example as an intensive 3 - 5 day course.
Everything you need to complete the Foundation Course is available online. You can watch the video tutorials on any device, at any time, as often as you like. You will also download a Workbook at the start which contains all of the worked examples you will be doing in between the tutorials. There are also notes summarising the key learnings plus a set of homework questions to help you embed the learnings and develop your practical skills.
The Boot Camp Challenge is structured as a "real-life" business simulation. It can be completed in a couple of days or over a number of weeks - it really depends on the type of entry (School, Team or Individual) and on how much time the students are willing to put into their submission. The more students immerse themselves in The Challenge, the more benefit they will get out of it. But the most important thing is that they give it a try - the learning and the skills development comes from giving it a go!
Your Instructor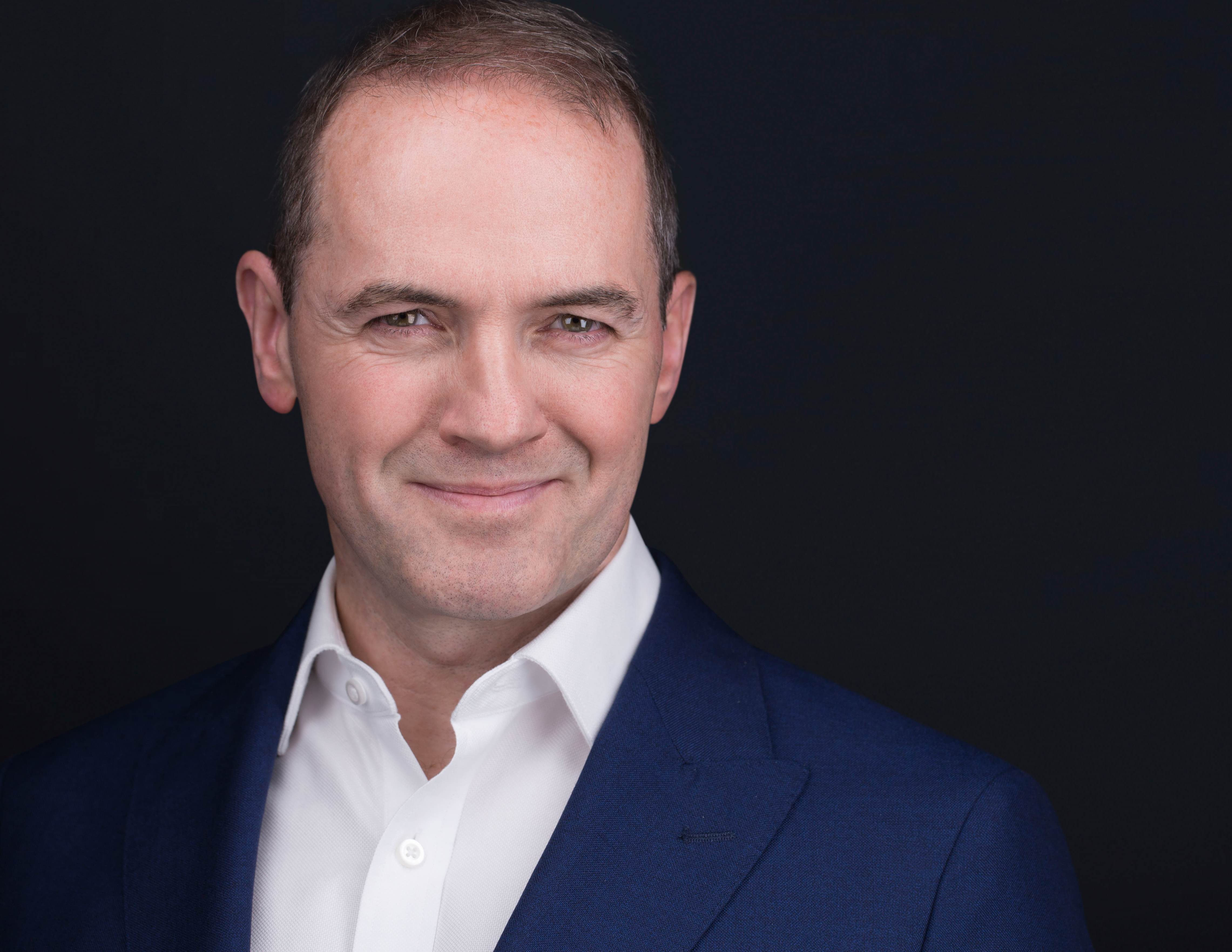 Brian is a Chartered Accountant with a lifelong passion for teaching and learning. Through ProTutor, his online school of finance, he has helped hundreds of students achieve success in their accounting exams. His expert knowledge and clear explanations are highly valued by students and teachers alike. Brian draws on his professional background and practical experience as an Examiner with Chartered Accountants Ireland to impart a deep understanding of accounting to students. In Boot Camp, Brian has created a course designed to give students with no prior knowledge of accounting a firm grasp of the fundamentals. This understanding is essential for students who wish to thrive in their accounting studies.
Course Curriculum
Getting Started
Available in days
days after you enroll
BE THE BOSS Boot Camp Challenge
Available in days
days after you enroll
Foundation - Day 1
Available in days
days after you enroll
Frequently Asked Questions
Who is Boot Camp suitable for?
Boot Camp is suitable for any Transition Year student and any Senior Cycle Accounting student. If you are a Transition Year student who is considering choosing Accounting, Boot Camp will help you understand what accounting is really like and it will give you a great head start for 5th Year. But even you're not planning to do Accounting, Boot Camp is a fantastic learning experience that will develop your financial and decision making skills. If you are 5th year or 6th year Leaving Cert Accounting student, Boot Camp will provide you with an essential revision tool in the fundamentals of accounting which you can use to support your learning throughout the year. A strong foundation in accounting is important for enjoyment of the subject and is also critical for academic success.
When does Boot Camp start and finish?
We originally structured Boot Camp as a five-day programme. However, this timeframe is for guidance only. Because it is a self-paced online course, you can complete the programme over as short or as long a period as you like. Choose a pace that suits your level of knowledge and the time you have available. If your teacher is running Boot Camp in your class, follow their guidance and instructions on how to get the best from Boot Camp. Many teachers choose to spread the programme out over a period of weeks or even months. It is a completely flexible course.
How long will I have access to Boot Camp for?
Once you have enrolled, you will have lifetime access to Boot Camp, including any new content that gets added to the programme. This will ensure that you have the benefit of being able to return to Boot Camp at any stage during Senior Cycle, for example, if there is a particular area that you want to brush up on.
How often can I access Boot Camp?
As often as you like! The beauty of Boot Camp is that you can view the tutorials on any device you own, at any time and your access is unlimited.